Golf in Scotland is not complete without a pilgrimage to St Andrews – the Home of Golf, and although obtaining a tee time over the Old Course is challenging in some months, we can guarantee packages to include a coveted reservation. But remember that Scotland has another 5 Open Championship venues past and present, which offer Links golf at its best.
In and around St Andrews the keen golfer could play a round on a different course each day and play for 2 weeks without travelling more than 30 minutes to reach a course.
St Andrews has a population of around 20,000 people. The university, where Prince William attended, attracts students from all over the world, keeping the bars and restaurants busy during the winter, and during the summer golfers from all over the world descend on the town to play the hallowed Old Course. The town has got a mystical charm about it, and is packed with golfers, golfing memorabilia and a load of golf-friendly bars where you won't be asked to remove your spikes at the door.
Choose a golf tour in St Andrews and you will have the choice of a fine range of accommodation options. At the luxury resort end of the market are two outstanding five-star properties, both of which combine the onsite leisure and spa amenities with access to best St Andrews golf courses. The Old Course Hotel sits alongside The Old Course's famous Road Hole, the 17th. Unrivalled views of the iconic course are assured, as is wonderfully luxurious accommodation. Make sure to visit the Road Hole Bar for single malt whiskies overlooking The Old Course – an unbeatable experience.
If you don't need the ultimate in luxury, choose one of our recommended town centre hotels or B&Bs, which will provide ample comfort at a more pocket-friendly price.
Fairmont St Andrews is around ten minutes from the main St Andrews courses, including The Old Course. The deluxe resort has two fine championship layouts of its own, while the fantastic Spa comes highly recommended. The Fairmont property sits approximately halfway between the town of St Andrews itself and Kingsbarns, the top rated modern links course that is a must for golf tour visitors to Fife. Designed by Kyle Phillips, the spectacular coastal track affords wonderful views and proves to be a favourite year on year with golf trip groups.
If the glut of championship links courses in St Andrews aren't enough to satisfy your appetite, venture out and within an hour's drive you could be playing at 2014 Ryder Cup venue, Gleneagles, or at the devilish Carnoustie Championship Course.
The easiest way to access St Andrews is to book flights into Edinburgh, which is within an hour's drive of the Home of Golf. With a host of courses, including the chance to play The Old Course and wide ranging accommodation options, your St Andrews golf tour can be fully customisable.
Nearest Airport
Edinburgh
Glasgow
Places to Eat & Drink
The Jigger Inn
The Road Hole
The Cellar Bar
Top Ranked Courses
Old Course St Andrews
Kingsbarns
Travel Information
90min transfer from Glasgow
90min transfer from Edinburgh
5 Night Vacation
Bed & Breakfast at The Hotel Du Vin
Arrive Edinburgh private transfers to St Andrews
Play the New Course
Play Kingsbarns
Play The Old Course
Play Carnoustie
All Golf Transfers included
7 Night Vacation
Bed & Breakfast
Arrive, transfer to Hotel Du Vin St Andrews
Play Kingsbarns Links
Play St Andrews Jubilee Course
Play the Old Course
Play Carnoustie
Transfer to Trump Turnberry Resort
Play Prestwick
Play Royal Troon
Play Ailsa Course
Private Transfers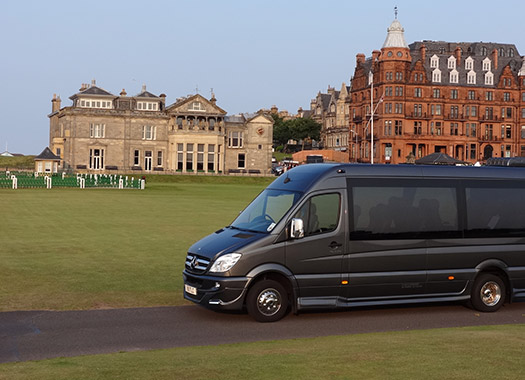 Includes transfers in a Mercedes-Benz Luxury vehicle with the following features:
Eight Italian leather seats
State of the art air-con
Drinks fridge
Unlimited wi-fi internet
Power for laptops and phones
DVD player with 21" Screen
Oversize boot for luggage & golf clubs.
Happy Clients
Feedback from golfers who visited St Andrews with YourGolfTours
Something every golfer has to experience...
Something every golfer has to experience. Standing on the 1st tee is a something I'll remember forever. There are some really good holes that you might not even remember from watching it on TV, the par-3 11th for example is an absolute belter with the large 'Strath' bunker protecting it at the front and a green which is steeply faced towards you it is one of the best I've played. Walking up the 16th, 17th and 18th is one of the best feelings you'll get as a golfer and walking into town for a drink at the Dunvegan pub is a must!
Oliver
I would recommend booking a caddy...A must play
Our round on the St Andrews Old Course was fantastic overall. I would recommend booking a caddy as they are very good for anyone playing the course for the first time. My wife and I played three courses in the area and found them all to be challenging but beatable if you played well. We hope to repeat the experience before we're very much older!
Keith
A truly unforgettable experience...
We had an unbelievable trip to St Andrews to play the Old Course! I took my son, Daniel as a 21st present, and we played the Dukes and the Old Course.
We stayed in the Old Course Hotel and our suite overlooking the course couldn't have been better. The full Scottish breakfast is a must too!
The Dukes course is a tremendous challenge and the Old Course was truly memorable, especially as we played it in the most difficult of weather conditions. Who could ever forget teeing off in front of the Home of Golf, launching a drive over the railway sheds on 17 and walking over the Swilken Bridge on 18?! It was a truly unforgettable experience and a definite 10 out of 10 from us!
Andrew
The Old Course is the holy grail for a true golfer, as the majesty and history of this magnificent course hangs in the air. This in turn, raises hairs on the back of the neck when walking down that first fairway and leaves spectacular memories, which will linger forever in the memory.
To avoid a bunker on The Old Course is like dodging air, however I managed this on my very first trip, which resulted in a stableford score of 39. Although the first four holes are quite simplistic in Championship terms, the dynamics of the game change along the way, presenting some interesting shots, but God forbid you land in any of those dreaded bunkers, some of which my three playing partners failed to escape from. A pure delight and a must play venue for all decent golfers.

Brian