Northern Ireland is home to golf courses of international acclaim and enormous historical importance. Not only is this home to the only course outside Scotland and England to have hosted the Open Championship, it is a region that extends terrific hospitality to anyone that wants to visit to explore the fantastic golfing landscape.
The rugged coastline around Northern Ireland and further West into the northernmost territories of Southern Ireland are seemingly heaven-sent for golf; sandy turf and the natural humps, hollows and creases that make links golf so special abound.
We have set packages that are extremely popular or you can have a bespoke golf tour that meets your requirements. Whichever route you take, we recommend a few small and welcoming hotels that are ideally suited to golfers needs, and will leave you feeling rested and ready to tackle the best of the region's golf.
And what golf it is; at the head of the queue are Royal Portrush and Royal County Down, the latter of which regularly dukes it out with New Jersey's Pine Valley for the honour of being ranked the world's number one course.
Nearest Airport
Belfast
Dublin
Places to Eat & Drink
The Gas Bar – Bushmills Inn
Percy French Inn – Slieve Donard
Top Ranked Courses
Royal County Down
Royal Portrush
Travel Information
1hr transfer from Belfast
2hr transfer from Dublin
7 Night Vacation
2 Nights Bed & Breakfast at Slieve Donard, 3 Nights Bed & Breakfast at The Adephli, 2 Nights Bed & Breakfast at Radisson Blu Letterkenny
Arrive Belfast or Dublin, private transfer to Slieve Donard
Play Royal County Down
Play Ardglass
Play Royal Portrush
Play Portstewart
Play Ballyliffin Glashedy Course
Play Co. Sligo
All Golf Transfers included
Private Transfers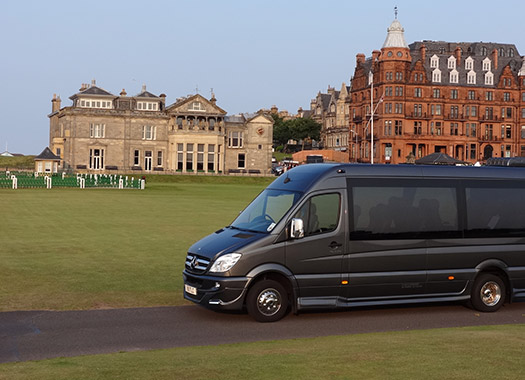 Includes transfers in a Mercedes-Benz Luxury vehicle with the following features:
Eight Italian leather seats
State of the art air-con
Drinks fridge
Unlimited wi-fi internet
Power for laptops and phones
DVD player with 21" Screen
Oversize boot for luggage & golf clubs.
Happy Clients
Feedback from golfers who visited Ayrshire with YourGolfTours
My 1st Irish Links Tour....
Having heard great things about Royal Portrush and Royal County Down, I had to both to my 1st Irish Links Golf Tour and I'm glad I did.
Both courses are truly spectacular and very different from eachother which makes for great variety on a vacation. Royal Portrush has since been reinstated to the Open rota so I'm looking forward to tuning in now that I've seen the course first-hand.
We also played Portstewart on our tour and I have to say if the back nine was anything like the opening nine holes, that course would give these other two classics a run for their money!
I plan to tick the South west coast of Ireland off the list next time I'm over from the US but can recommend Northern Ireland and all of the courses I've mentioned to anyone looking to play some real links golf.
Steven
Old style links nature....
Firstly a big thank you for organising our trip to Ireland, it was a lot of fun, all of the guys had a great time, and pass on their thanks.
Ballyliffin (Glashedy) was for most people their favourite course, I myself preferred Sandy Hills as I found it a little bit more imaginative on the eye, one or two preferred the 'old style' links nature of Portsalon. The 7th is quirky but a great fun hole offering tremendous views. The course condition was I think as good as I have seen for a while, similar level as Gullane or Western Gailes. It was again pretty long, as set up as a Championship course, and there were an enormous amount of bunkers at both driving area and by the greens.
Again a very friendly atmosphere at the club, and the restaurant was very helpful in getting us all through lunch.
Roraigh