Head to the capital of Ireland and you're assured a warm welcome. The vibrant, cosmopolitan centre has plenty to offer, with extremely lively after hours action centred around the likes of Temple Bar.
The off-course activity is no doubt important, but what golfers will be keen to hear is that Dublin and its surroundings are a mecca for any avid player, with a huge number of terrific courses of differing styles; in Dublin you can have a full workout of links golf at the seaside and the best in resort golf within a 30-minute drive.
Starting with links golf, with which is Ireland is perhaps most associated with, the Dublin area is led by terrific seaside gems like The Island and Portmarnock, both of which take as their inspiration the massive sand dunes and the humps and hollows of the natural land – golf as it really should be, totally unfussy and hugely challenging.
Arguably more relaxing but equally as impressive are the Dublin resorts; Carton House is excellent, with courses from O'Meara and Montgomerie, while the most recognisable name for many will be The K Club, host of the 2006 Ryder Cup and a fantastic choice for any golf tour around Dublin.
Places to Eat & Drink
Legends – K Club
Jameson Bar – Portmarnock
Top Ranked Courses
Palmer Course – K Club
Portmarnock Old
Travel Information
20min transfer from Dublin Airport
Experience Ireland's Capital
6 Night Vacation
Bed & Breakfast at The Fitzwilliam Hotel
Arrive Dublin, private transfer to hotel
Play The European Club
Play Portmarnock Old Course
Play County Louth
Play The K Club Palmer Course
Play The Island Golf Club
All Golf Transfers included
Private Transfers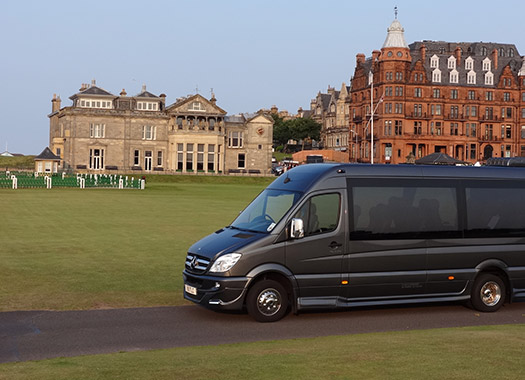 Includes transfers in a Mercedes-Benz Luxury vehicle with the following features:
Eight Italian leather seats
State of the art air-con
Drinks fridge
Unlimited wi-fi internet
Power for laptops and phones
DVD player with 21" Screen
Oversize boot for luggage & golf clubs.
Happy Clients
Feedback from golfers who visited Dublin with YourGolfTours
The two golf courses at The K Club are immense and so wonderfully different. The Palmer course, which hosted the 2006 Ryder Cup, is a real test of golf. We played from the front tees and even though we had single figure handicappers in the group, everyone agreed the test of golf was top class.
The Smurfit course is much more open but still, you need to play it a few times to understand the design and how best to navigate your way around. As they say, sometimes less is more and this certainly rings true with some of the tee shots here.
Steve
Thanks for organising our recent golf breaks to Dublin. Although I've heard good things about this area I would never have played Portmarnock had it not been for your recommendation. The course was without doubt one of the finest I'd ever played, not only was the course in stunning condition but the layout was superb. I can't recommend it enough for anyone looking to play some top quality golf in Ireland.
Robert