The Ayrshire coast is within 40 minutes of Glasgow Airport, 90 minutes of Gleneagles and is more than 2 hours from St Andrews. Troon and Turnberry are the focal points for the best golf in Ayrshire – the two centres are around 40 minutes from one another, which means comfortable driving distances to play the most sought after links courses.
Thanks to the warm water currents of the gulf stream that pass close to the coast Ayrshire enjoys a microclimate of mild winters and warm summers – ideal for golf!
Ayr is a bustling town and the historic centre. To the south, near the town of Girvan, lies the world famous Turnberry Resort which has hosted the 'Open' a number of times – '77 is the one everyone remembers as the 'Duel in the Sun' starring Jack Nicklaus and Tom Watson. A couple of miles to the north is Prestwick which 'Old' Tom Morris and his contemporaries would be familiar with. Old Prestwick was the original venue of the 'Open' in the early years. A few miles further north is the town of Troon which probably needs no introduction – Royal Troon is another regular 'Open' venue and where Colin Montgomerie grew up and learnt his trade.
The above are just some of the 'headline' courses but what makes this area such a golfers mecca are the 'classic' links courses like Western Gailes, Glasgow Gailes, Kilmarnock Barassie and Prestwick St Nicholas. Throw into the mix a couple of James Braid specials like the heathland / links mix of Irvine Bogside, the parkland splendour of Ayr Belleisle then top it off with a sprinkling of local upscale public / private courses such as Lochgreen, Darley, Portland and Brunston Castle and you'll begin to see why Ayrshire folk have a passion for the game.
And if you can find the time don`t miss out on a visit to:
Culzean Castle where 'Ike' has his secret headquarters during WW2 The 'Electric Brae' where golf balls run up hill?!! The Tam O'Shanter bar where 'Rabbie' did his drinking 'Rabbie's' Cottage and Museum in Alloway Glasgow (40 mins) to get a taste of Scotlands 'other' capital city!
Places to Eat & Drink
Duel in the Sun – Turnberry
Scott's Bar -Troon
Top Ranked Courses
Ailsa Course – Turnberry
Royal Troon
Travel Information
60min transfer from Glasgow
2hr transfer from Edinburgh
6 Night Vacation
Bed & Breakfast at The Marine Hotel
Arrive Edinburgh or Glasgow, private transfer to your hotel
Play Western Gailes
Play Ailsa Course - Turnberry
Day Ticket at Royal Troon (Old & Portland)
Play Prestwick
Play Dundonald Links
Private Transfers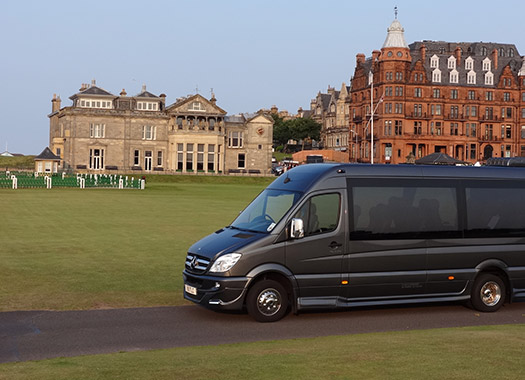 Includes transfers in a Mercedes-Benz Luxury vehicle with the following features:
Eight Italian leather seats
State of the art air-con
Drinks fridge
Unlimited wi-fi internet
Power for laptops and phones
DVD player with 21" Screen
Oversize boot for luggage & golf clubs.
Happy Clients
Feedback from golfers who visited Ayrshire with YourGolfTours
This is a truly great course...
The hotel at Turnberry is excellent and makes for a great base for a weekend of golf in Scotland. The clubhouse grill in particular has a great atmospehere – and really good steaks!
As for the golf; the Ailsa was fabulous from start to finish and everyone agreed it was one of the best we have played. We were lucky to get to play it on a lovely afternoon without a breath of wind which was fantastic. This is a truly great course and its little brother, the Kintyre was no push over either!
Mike
The Ailsa Course speaks for itself...
Everything on our golf break to Turnberry went very much to plan – no problems at all! The weather was fantastic for the time of year and as many golfers will know, Turnberry is one of the best venues in the world for a golf break. The Ailsa Course speaks for itself but the Kintyre is a great golf course in its own right and the perfect warm up for the main event!
Both golf courses are perfectly complemented by the fantastic hotel and, if you haven't already tried some, a pint or two of St Mungo is highly recommended.
Douglas
Prestwick Golf Club is one of the finest Scottish Links courses I've been lucky enough to play. It offers a real test for all players. Many blind tee shots throughout, punishing rough for the odd wayward tee shot and (more often than not) sideways winds. Although tricky, the holes are stunning. Lots of nice Open Championship history in the clubhouse as it was the original host of The Open.
Joel
This place is beyond words...
There is no point in trying to describe experiencing Turnberry to the full over a couple of sunny spring days, this place is beyond words.
On the way back home, we tried to capture the pleasure of playing golf on two superb links courses, the relaxed hospitality, the iconic landscape, and I feel I must stop here or this will become a very long list of superlatives!
We can't wait to arrange a return and we'd whole heartedly recommend this place to anyone who loves golf.
Terry