Ireland's South West is perhaps the most famous of its myriad of top class golfing destinations, host to a clutch of heavyweight names whose international reputations are richly deserved. The land around the counties of Clare and Kerry is hallowed in golfing terms, and its glorious sandy turf should be trodden by every serious golfer at one point in time.
Access from Shannon is easy, and once in the South West area, explore the golfing delights either by driving your group or with a personal transfer service. Either way, a multi-stop adventure taking in a few different hotels, plus a stay around Killarney itself, comes highly recommended and we hope will be up there with the best golfing experiences you have yet enjoyed.
To name just a few, courses like Ballybunion, Lahinch, Doonbeg and Waterville typify the quality of the golf in Ireland's South West; these are courses that are regulars in the respected rankings of the world's best, and they can all be yours as part of one Irish golf tour.
The fantastic juxtaposition achieved by having the old fashioned links at the likes of Ballybunion set against the amazing Greg Norman designed Doonbeg underscores the rich character of the area, and few can offer a golf tour of such immense championship quality.
Nearest Airport
Shannon
Dublin
Places to Eat & Drink
Ocean View – Doonbeg
The Bell Tower – Castlemartyr
Top Ranked Courses
Ballybunion
Doonbeg
Old Head
Travel Information
60min transfer from Shannon
3hr transfer from Dublin
6 Night Vacation
Bed & Breakfast at The Aghadoe Heights Hotel
Arrive Shannon private transfer to Aghadoe Heights
Play Ballybunion
Play Tralee
Play Waterville
Play Doonbeg
Play Old Head Links
All golf Transfers included
Private Transfers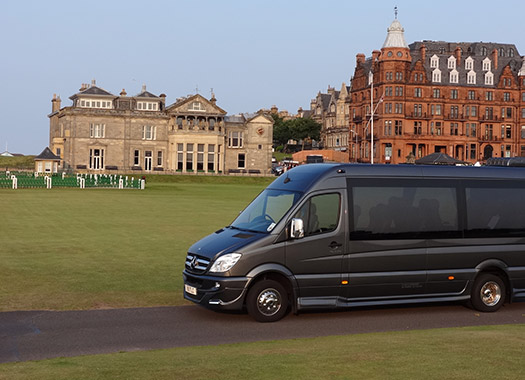 Includes transfers in a Mercedes-Benz Luxury vehicle with the following features:
Eight Italian leather seats
State of the art air-con
Drinks fridge
Unlimited wi-fi internet
Power for laptops and phones
DVD player with 21" Screen
Oversize boot for luggage & golf clubs.
Happy Clients
Feedback from golfers who visited the South West of Ireland with YourGolfTours
As testing as it is beautiful...
I have always wanted to see what the courses on the South West coast of Ireland were like, having heard great things about Ballybunion from an old friend who visited Ireland to play golf years ago.
Ballybunion and especially the back nine was just awesome and we loved Lahinch too. Tom Watson once said "I am now of the opinion this is one of the best and most beautiful tests of links anywhere in the world" and although we only played the course once, it's easy to see what he was talking about.
Having said that, we initially tagged a round at Tralee (we had to get a round on one of Arnie's courses!) onto the vacation just to fill the itinerary out a bit, but it ended being our favourite course on the trip!
Bobby
Doonbeg is a great place to stay
Our group really enjoyed Lahinch and most of us thought it was, together with Waterville, outstanding and the best courses we played. Taking nothing away from Ballybunion or Tralee, they are both excellent, but we thought Lahinch & Waterville are definitely a notch better.
All in all we would not have changed a thing. The Irish people are so friendly, the food was better than expected and the accommodations were as good as you can get for an eight man trip. The cottages at Doonbeg in particular are a terrific set-up for groups and I highly recommend them.
Steven
The back nine holes are classic links and truly spectacular...
This was my first visit to Ballybunion and thankfully I managed to clear the graveyard to the right of the first fairway…just! The first nine are good holes but marred by two ugly caravan parks across the road. This obviously isn't the course's fault as it was there before the caravans arrived but some screening, even if it were with a row of dreaded fir trees, would be preferable. The back nine holes are classic links and truly spectacular…worth the visit alone. As with all the clubs we visited on our tour, the staff were welcoming and helpful and added much to the experience.
Derek
Beautifully secluded on the edge of nowhere...
The experience at Doonbeg (now Trump International Ireland) starts long before you've made it to the 1st tee, with 5* hospitality forthcoming from the moment you step out of your car. After a friendly welcome and perhaps a mooch around the amazing clubhouse, the opening hole really gets the blood pumping and really sets the tone for the rest of the course.
Each hole at Doonbeg is unique and offers its own challenge, whether it be threading a well measured drive down a narrow fairway, or judging a tricky approach into a raised green surrounded by runoff areas and massive dunes. Like many of the courses down here, the best holes on this course are among the dunes closer to the shore, where the drastic elevation changes really come into play. These holes boast plenty of spectacular views and are really memorable.
Rory